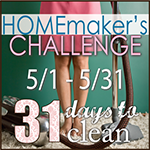 Join the challenge with us! Starting May 1st we are taking the 31day Homemakers challenge!
Want a clean house by the end of the month? Work right along with the rest of us and learn along the way. To care for your home and family with love. It's not just about having a clean house, it's a journey.
Click on the above link and join us! We all struggle but we don't have to do it alone. Supporting each other thru the mundane!
- Posted using BlogPress from my iPhone